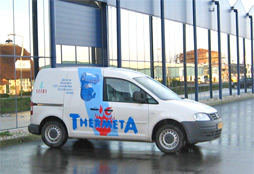 Thermeta Service BV has its own fully equipped development, production and electronic departments and an extended service organisation.
The Thermeta service engineers take care of the commissioning of the burner equipment, maintenance and periodic inspections. Besides, Thermeta offers a 24-hour emergency service that can be quickly at any location in the Netherlands. Thermeta has been certified for SCIOS 1) for carrying out the required maintenance, inspections and measurements.
Thermeta Service BV has SCIOS certification for the following scopes:
Scope 1 - Atmospheric heating boilers and air heaters
Scope 2 - Hot water boilers & air heaters with ventilator burners
Scope 3 - Steam boilers and hot water boilers
Scope 4 - Internal combustion engines and turbines
Scope 5 - Special industrial systems
ovens
furnaces in the processing industry
drying systems
after burners
air heaters
combustion plants (not standard)
directly fired air heaters
Scope 6 - NOx measurements/Bees B measurements (also with respect to CHPs)
The service department delivers the following service (among others):
Installation
Commissioning
First special inspections
Periodic inspections
Periodic maintenance
BEES B measurements
Locate/remedy faults
For further information please contact Thermeta Service BV.
Service for equipment of other brands:
Of course, Thermeta Service BV has the most experience and expertise with respect to its own products, but we also professionally and effectively maintain a considerable number of burners of other brands.
Thermeta Service BV delivers its services to among other things:
Burner systems general
Combustion plants general
Atmospheric burners
Ventilator burners
CHPs
TOTEMS
Gas turbines
Burners of all brands
Gas burners
Oil burners
Heavy oil burners
Bio-oil burners
Industrial burners
Directly fired air heaters
Indirectly fired air heaters
Burners for boilers
Burners for WOK combustion plants
Burners for VOS combustion plants
Burners of thermal soil decontamination systems
Burners for after burning
Steam heaters
1) SCIOS
Stichting Certificatie Inspectie en Onderhoud Stookinstallaties [Foundation for Certification, Inspection and Maintenance of Combustion Plants] (SCIOS) manages a quality system in the specific area of professional combustion plants. For this the foundation has set up the SCIOS certification system. Owners of a SCIOS certificate carry out maintenance and inspection activities in compliance with the legally required quality concerning efficiency, safety and environmental impact. The SCIOS was founded on 27 May 1998 and is managed by a board in which the competent authority (the municipalities), those subject to Order in Council (the buyers) and executives are represented and with an independent chairman. SCIOS is supported by a Central Council of Experts that consists of representatives of AVAG, Gasunie, KW2, VIV/VLWK, FIGO, VNI, FME/CVM/VFK, observants on behalf of LMI/FHI and Visa committee, representatives of the associated certifying authorities.
For further information please contact Thermeta Service BV.