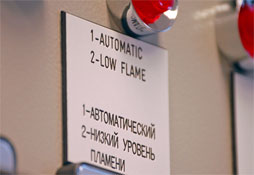 Thermeta Service BV is an internationally operating company specialised in the design, production, installation and maintenance of combustion devices/plants of an excellent quality. Thermeta Service BV is one of the major burner manufacturers in the Netherlands. The Thermeta Service BV burners have been installed all over the world and are used by many satisfied customers for various applications.
Thermeta Service BV products, burners and/or complete combustion plants have also been installed in the countries given below. The combustion plants have been delivered for the combustion of gas/high-calorific gas/propane/light oil/heavy oil:
The Netherlands
Great-Britain
Belgium
France
Switzerland
Turkey
Saudi Arabia
Ethiopia

Kenya
Uganda
Ecuador
Colombia
United States of America
Canada
Russia
Poland

Tanzania
Germany
Indonesia
Portugal
Austria
Bolivia
Many international customers have also decided to have the burners maintained by service engineers of Thermeta Service BV because of the quality of the service, flexibility and expertise.